They say that the night is darkest right before dawn. Over a rough couple of weeks, I've realized that sometimes it's only after battling the darkness inside of ourselves that we see the sunrise. In the coming weeks and months, I am facing one of the, if not
the
biggest internal struggles of my life. And it scares me. But I'm ready.
Everyone has different obstacles to face in their own lives. And the first step is always the hardest. But it's impossible to succeed if you aren't willing to try. And it is never easy. You can't hesitate, or give up when it gets too hard. Each person has their own road to travel, and you have to walk until it ends. And it frightens me, but I know that the journey will make me a stronger, better person. So I'm ready.
Right now, all I can do is accept my current situation and surrender the control that I've relentlessly pursued.
I must continue to be grateful for the positives of each day and what I am able to accomplish.
It's been absolutely freezing in Columbus for the past few weeks. And my body is not made to withstand these kind of frigid temperatures. I've been tired. After my morning classes, I spend the afternoon closeted studying for the LSAT on February 9th. Stress has made my Raynaud's syndrome flare up, and lately it feels like I'm always shivering.
So, in an effort to warm up and stretch my tired muscles, I bundled up and headed out the door for an early run this morning. It's easy to run from my thoughts, but I never think more clearly than I do when I'm running. I ended up flying by the Short North, and before I knew it I was in downtown Columbus. The nearby North Market had a tempting selection of fresh strawberries and bananas, and my body was craving carbs after my run, so a waffle breakfast was the obvious choice.
I have been eager to try out my new waffle iron and a killer recipe for belgian waffles from one of my friends for a while now, so I headed back to campus and fired up the appliance while glancing over the recipe.
Oh
.
My
.
G-d
.
It's good.
Really
,
really
good.
You're definitely going to want to write home about this one.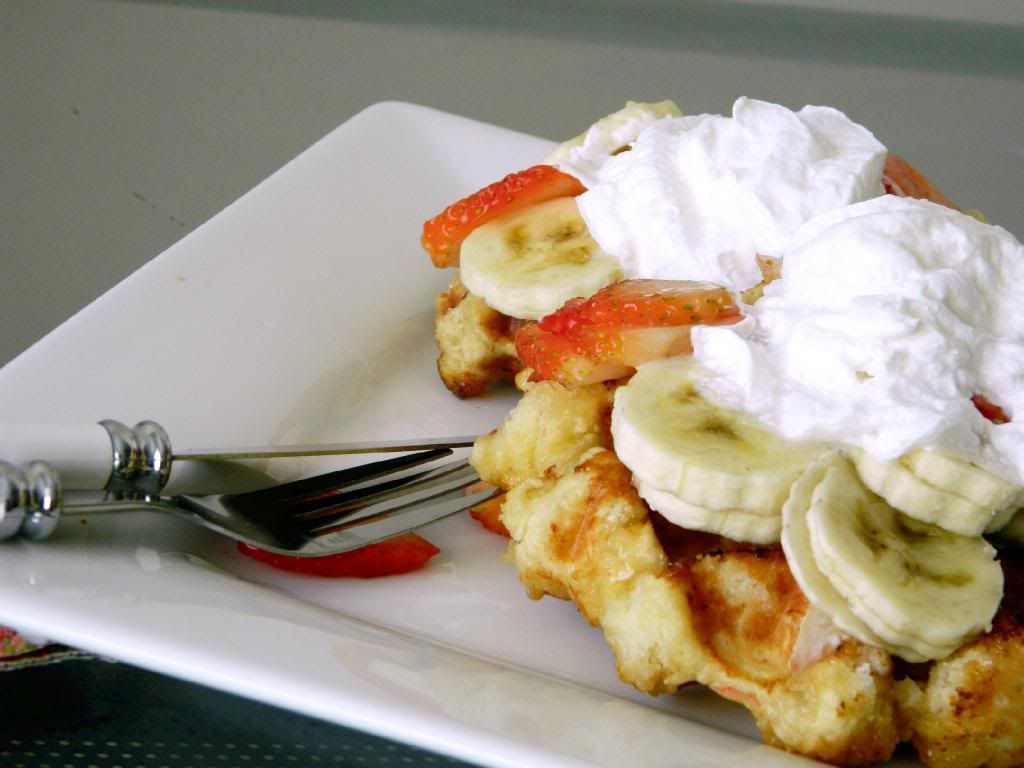 You'll Need:
1 1/2 teaspoons active dry yeast
1/4 cup lukewarm water, between 90°F and 100°F
1/2 cup unsalted butter
3/4 cup pastry flour
2/3 cup all-purpose flour
1 tablespoon granulated sugar, plus more for sprinkling
1/2 teaspoon Maldon sea salt
5 large eggs, at room temperature
1 vanilla bean (or 1 teaspoon vanilla extract)
4 tablespoons pearl sugar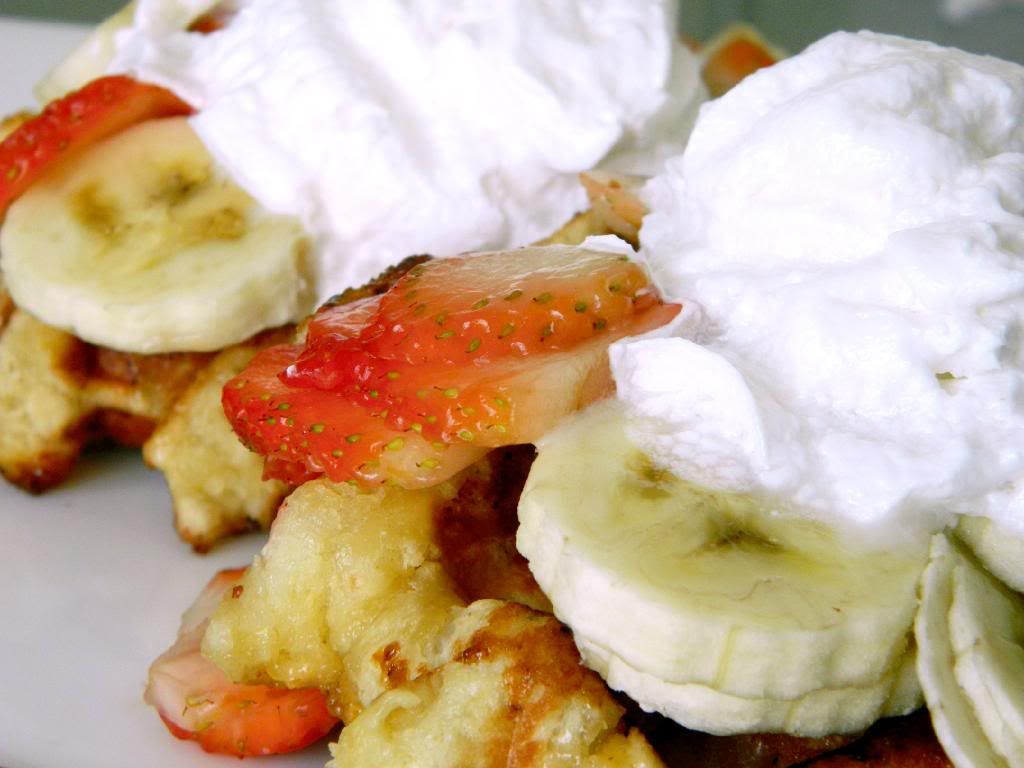 Directions
:
In a small bowl, combine the yeast and water and let sit for 5 minutes.

Melt the butter and let cool to about 115°F. Sift the flours and granulated sugar into a separate bowl. Stir in the salt.

Crack the eggs into a medium bowl. Split the vanilla bean in half, scrape the pulp into the eggs, and whisk vigorously until well-blended. Add the egg mixture to the flour mixture, along with the yeast and melted butter. Whisk until smooth.

Cover the batter with plastic wrap and let rest until doubled in size, 1 hour, or refrigerate overnight.

Gently fold the pearl sugar into the dough and let rest for 15 minutes. Preheat a Belgian-style waffle maker to medium-high heat.

Scoop the amount of batter suggested for your waffle maker into the waffle maker and sprinkle a bit of granulated sugar on top. Cook until the indicator light goes off or until browned (dark) and crisp.

Sprinkle with strawberries, bananas, and a dollop of whipped cream and enjoy!