One of my favorite childhood memories is making hamentashen with my grandmother. As soon as I opened the front door of her house, the sugary smell of baking dough would waft towards the door, making my mouth water. I don't remember my grandmother ever really using a measuring cup. It was always "shitn arayn", which is the yiddish way of describing her intuitive way of baking. She always seemed to know the right ration of dry to wet ingredients and when to add just a little more of this or that -- a handful of flour, just one more pinch of salt. Her wrinkled fingers softly worked the dough, yielding a perfectly smooth ball every time. My grandmother's kitchen was small, and her movements were precise. She would give me an egg to whisk or let me knead the dough for a little while. She taught me how to roll out the dough to the perfect thickness across her floured counter, and how to cut out circles using a drinking class dipped in flour.
With expert hands, she dropped teaspoonfuls of prune and poppy seed filling into the center of the dough circles before carefully showing me how to pinch them closed so that they wouldn't open in the heat of the oven. She placed them painstakingly on the waiting baking sheets, lining them up like ducks in a row, each one in its place. Patiently, we would prepare additional batches as we waited for the buttery treats to emerge from the oven. The first bite was always the best-- the initial crunch of flaky dough would yield to the warm chewy center.
I've never asked my grandmother for her recipe because I know that my attempts would never taste as good as my memories. So this year, I tried a new tactic. I'm not using my grandmother's recipe. I'm creating my own.
Ingredients:
•

2 teaspoons baking powder
•

1/4 teaspoon kosher salt
•

2/3 cup butter, softened and cubed (or margarine)
•

2 large eggs plus 1 large egg yolk
•

3/4 cup of apricot filling (recipe follows)
Measure 3 cups water, 1/2 cup sugar, 1/2 pound dried apricots, the juice of 1 lemon and 1 split and scraped vanilla pod into a large saucepan. Heat to a boil, lower to a low bubble and let cook, partially covered, stirring now and then, until very thick, 1 1/2 hours (adding more water if need be). Stir in 1 tablespoon almond liqueur. Cool completely.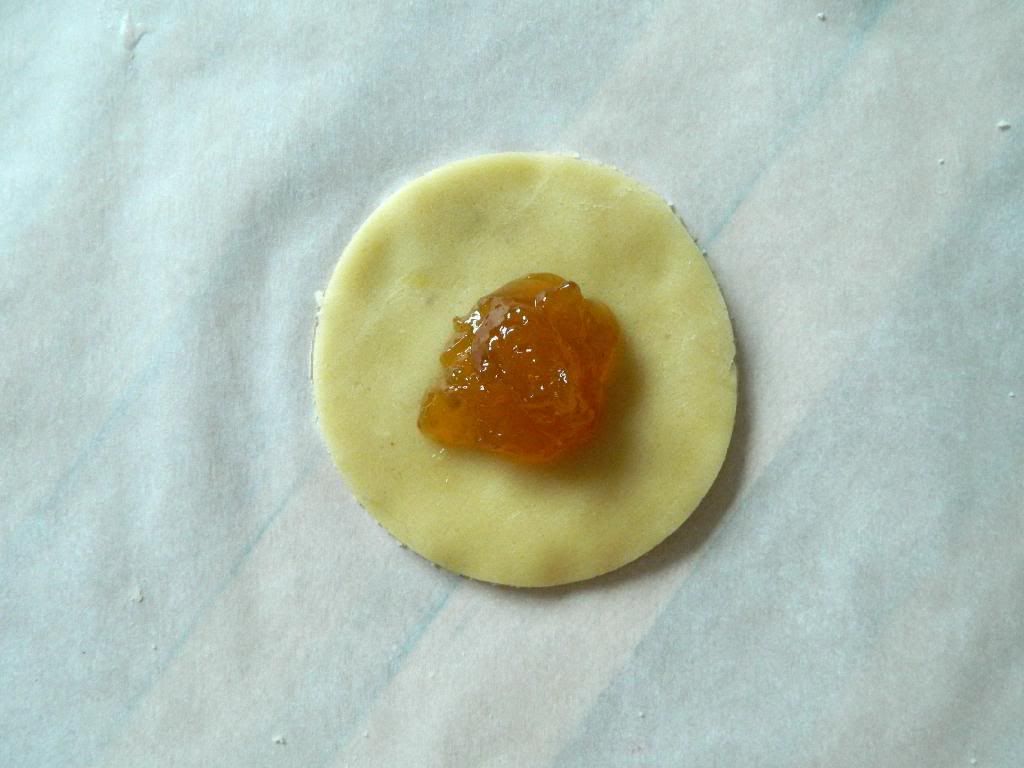 To Do:
Sift:In a medium bowl, measure flour, baking powder, salt and sugar.

Whisk:Combine the oil, butter cubes, eggs, egg yolk, zest, citrus juices, and brandy.

Combine:Gradually stir in the flour mixture into the wet mixture. Do not over-mix. Gently shape into two disks and wrap in plastic wrap. Chill overnight.

Cut: Roll 1 pastry disk out on a floured surface until about 1/4-inch thick. Punch out circles, using a 3-inch fluted cookie cutter. Transfer circles to a parchment-lined baking sheet.

Fill: Drop 1 teaspoon apricot filling into the center of each circle. Fold edges of circle in over the filling, forming a triangle-shaped cookie, with apricot center showing. Press corners to seal. Repeat with remaining dough.

Bake:Bake at 350 degrees until just golden, about 15 minutes. Cool. Enjoy.